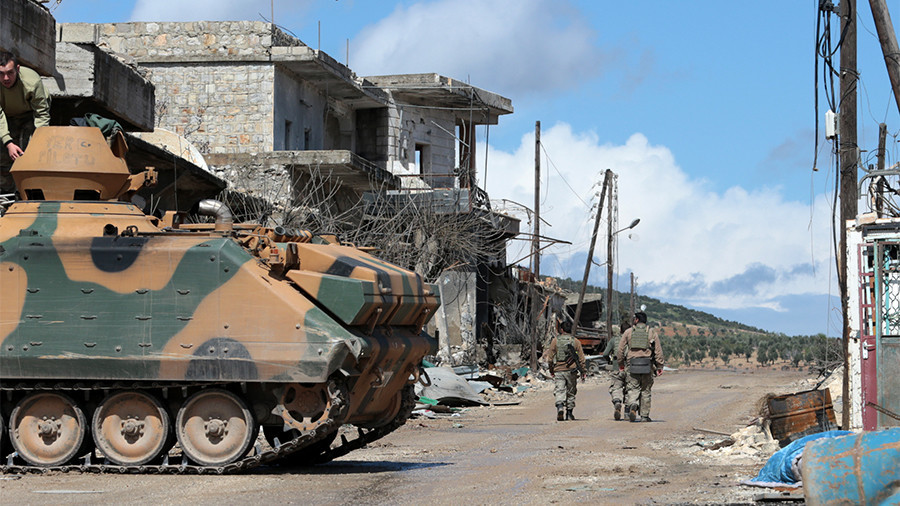 The Turkish military and allied forces have taken full control of the Syrian city of Afrin, President Recep Tayyip Erdogan announced on Sunday. Kurdish YPG forces had previously maintained control of the area.
The pro-Turkish forces entered the city before dawn and faced no resistance from Kurdish fighters, who had already withdrawn, according to reports. Erdogan said in a televised speech this morning that all measures would be taken to protect Afrin's residents. He praised the "heroic" actions of the armies, Turkey's NTV reports.
Turkish Defense Minister Nurettin Canikli praised Turkey's "hero" army. Writing on Twitter, Canikli said that Turkish forces in Syria guarantee "peace, security and peace" for Turkey and the region.
The Turkish operation was conducted in coordination with the Free Syrian Army (FSA). FSA fighters encountered improvised explosive devices (IEDs) as they entered the city, Turkish state media Anadolu Agency reported.
On January 20, Turkey launched a cross-border offensive into Syria, with the aim to dislodge Kurdish "terrorists" from Afrin. The assault, codenamed Operation Olive Branch, has strained relations between Ankara and Washington. The Kurdish YPG are key US allies in the fight against Islamic State (IS, formerly ISIS), but Ankara views them as an offshoot of the terrorist-designated Kurdistan Workers' Party (PKK).
Kurdish forces claimed earlier this week that Turkey's bombardment of the city had forced 10,000 civilians to flee their homes over the course of two days. On Thursday, Turkey dismissed a non-binding resolution approved by the European Parliament that called for a halt to Ankara's military offensive in northern Syria, saying it demonstrated "clear support" for militants.